About the Book
In the game of kiss and tell, there are no rules…
The Lady is a knockout.
Forced by her family into an engagement with a man she can never abide, Antigone Preston knows only a scandal will save her from a loveless marriage. But knocking a man down to the ballroom floor with her fists brings dangerous consequences. She may have ruined her reputation, but now she's endangered her heart…
The Officer is a gentleman.
The son of an earl and a career navy man, Captain William Jellicoe has no interest in the frivolities of London—and even less in the institution of marriage. But there's something steering him toward Antigone. He has never met anyone as brazen and unconventional as…himself. But will he risk it all for a woman who still has the breath of scandal hot on her lips?
Previous cover: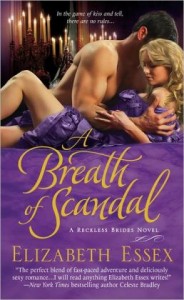 What They're Saying…
"Essex's second Reckless Bride certainly suits the title. The bold heroine easily wins readers' hearts, along with her officer and gentleman hero. Essex brings a breath of fresh and funny air to the Regency while her stylish writing and intelligent characters appeal to hearts and minds. Pure, delicious, sexy pleasure awaits readers."
~ Romantic Times Book Reviews