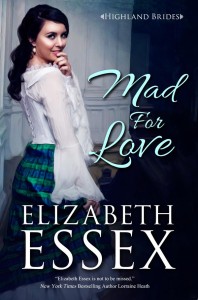 Get started with the Highland Brides early! This introductory novella is now available for reviewers on Netgalley. 
Mad for Love will be available on April 5, 2015 at all retailers. My goal is to offer it up for free as a thank you to all my loyal, wonderful readers 🙂 I'm so grateful to you for coming along on this wild journey with me into independent publishing!
Download here: http://netgal.ly/2SUtja
It'll be available until March 24, 2016.
Set a thief…
Rory Cathcart's appreciation of the exquisite makes him the perfect man to expose forgeries and root out fraud in London's tempestuous art world. But when his latest investigation into forged paintings puts him squarely in Mignon du Blois' shaky sights, he finds himself deep in trouble, and captured by something more powerful than mere beauty.
To catch a thief…
The moment Mignon stops a rakish thief from making off with one of her father's brilliant forgeries, she knows she's found the perfect man to help her steal back a priceless statue, and save her family from unspeakable scandal. She has no intention of falling for Rory's Caledonian charms, nor his seductive Scottish persuasions. From the drawing rooms of the ton to the auction rooms of the art world, the pair embark on a madcap adventure to save them both from ruin. But will the love they uncover be most priceless treasure of all?
AND COMING MARCH 25, 2016 TO NETGALLEY…MAD ABOUT THE MARQUESS!