I'm so excited to share with you the third Highland Brides book, A Fine Madness. This novella was featured in the Scandal's Daughters anthology last year, but I have also expanded upon it with an additional 10,000 words. (If you read it already in Scandal's Daughters, the plot remains largely the same.)
For a limited time, A Fine Madness is available at the discounted price for $1.99! (If you prefer to read it in print, you can also purchase the paperback for $8.99).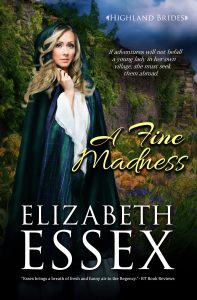 "If adventures will not befall a young lady in her own village, she must seek them abroad." –Jane Austen
 Miss Otis regrets…
The entirely of Miss Elspeth Otis's inheritance from her wastrel father is a battered old trunk with some scrawled-upon foolscap sheets. Nothing that could free her from a stifling life with her fusty maiden aunties in a musty old cottage in a misty corner of Scotland. Nothing that will give her the life she's always dreamed of—a life full of kindness and kisses and love. Or will it?
Nothing…
Mr. Hamish Cathcart wants more than anything to avoid the hasty marriage to a brewer's daughter his father, the earl, has arranged to revive his fortunes. Hamish's only hope is his failing publishing company, whose only asset is a scandalously banned book by an infamous, but unfortunately deceased, author. But when a new novel written by the same man lands on Hamish's doorstep, he'll go to any length to secure it—any length but love.
Purchase your copy today!
Amz: http://hyperurl.co/afmamz
Kobo: http://hyperurl.co/afmkobo
Print: http://hyperurl.co/afmprint
BN Print: http://hyperurl.co/afmprintbn