The Dartmouth Brides are here!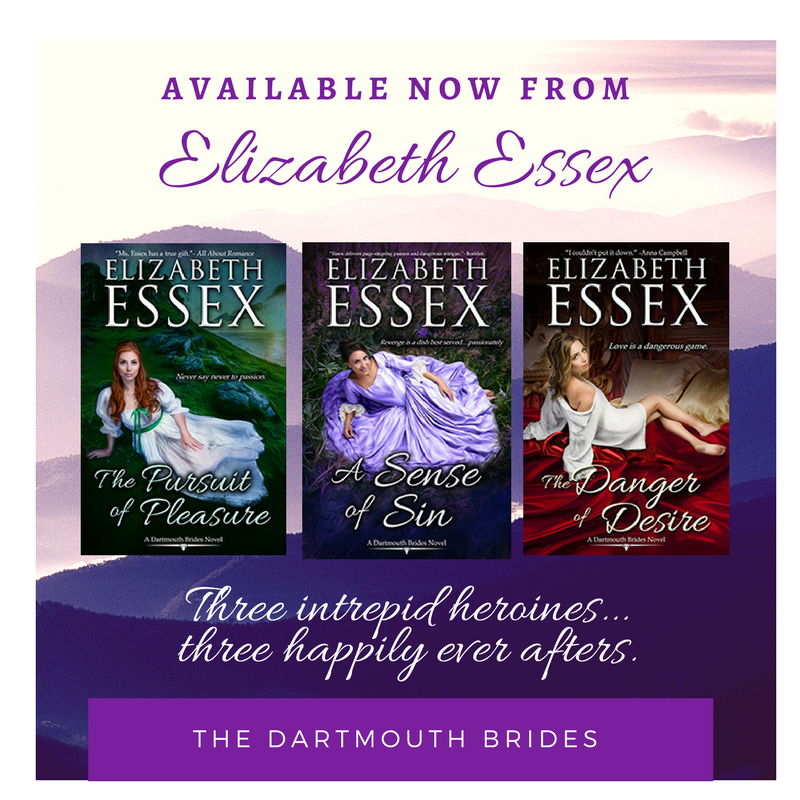 I'm so thrilled to get to reintroduce you to the
Dartmouth Brides
, which was my first series ever, back in 2010-2012. In releasing the second versions of these books, I have reedited and revised them, and I'm so pleased to offer them to you at the affordable price point of $3.99 each for the e-book and $13.99 for the paperbacks! All three books are available now!  
Purchase The Pursuit of Pleasure
Amazon
|
Nook
|
iBooks
|
Kobo
 |
Print
SHE DOES SAY SHE'LL NEVER MARRY…
Miss Elizabeth Paxton is a new sort of heiress—educated, opinionated and entirely independent. The last thing she wants is a husband mucking about her life. Even if he is the only man she's ever loved.
BUT SHE HAS ALWAYS WANTED TO BE A WIDOW.
When dashing Captain Jameson Marlowe returns to Dartmouth, he proposes to give Lizzie exactly what she wants—a marriage without the man. After one night of searing passion, his sworn duty will take him far off to sea…or so she thinks until secrets and lies set a collision course with the smugglers along the south coast, and Lizzie is caught in the dark tide of treason. Can she salvage her pride and learn to trust in true love before it's too late?

Purchase A Sense of Sin
Amazon | Nook | iBooks | Kobo | Print
 
A LADY WITH A SECRET
The Ravishing Miss Burke has everything a young lady could want—beauty, status and suitors lined up just to beg for her hand. Until a blackmailer from her past holds her future for ransom.
A MAN HELLBENT ON REVENGE
Colonel Rupert Delacorte, Viscount Darling will go to any length to ruin the woman responsible for his beloved sister's death. But the Ravishing Miss Burke is nothing like the icy murderer of his waking dreams—she's nothing but a bluestocking with a shocking secret she'll go to almost any length to keep. Even succumbing to his sinful seduction.
T
he Danger of Desire
Amazon
|
Nook
|
iBooks
|
Kobo
 |
Print
THE OFFICER IS A GENTLEMAN
Royal Navy Captain Hugh McAlden will do anything to stop the treasonous flow of information out of the Admiralty, even if it means taking in a slyly attractive street thief to steal those secrets back.
BUT THE LADY IS A TRAMP
Circumstances might have forced Meggs Evans into a life of crime, but she's bound and determined to lift herself out of the gutters even if it means stealing for the wickedly handsome captain. On the trail of a traitor, the undeniable attraction between Meggs and her captain explodes. But when danger ignites their desire, the only thing in danger of being stolen is her heart.