Huzzah! It's finally release day for the first two Highland Brides books, Mad for Love and Mad About the Marquess. I'm so happy to get to share these books with you–titles that are truly books of my heart, as they are my first endeavors at independent publishing. From the covers (photographed by Jenn LeBlanc in a special shoot!) to the editing (I love my team of editors) to the writing itself, these are books where I truly was able to pursue my vision.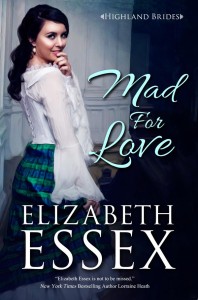 So come meet the Highland Brides…a quartet of bold, brilliant lasses determined to make their own happily ever afters. And you can start the series for no cost, as Mad for Love is free at all retailers! The best way to catch a thief is to use another thief…or so you'll find out in Mad for Love, a rompy caper romance.
Amz: http://hyperurl.co/mflamz
Kobo: http://hyperurl.co/mflkobo
ARE: http://hyperurl.co/mflare
Print copies will be available soon!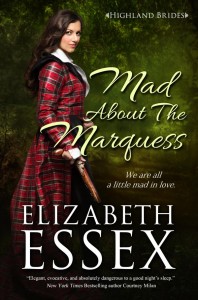 And check out the first full-length novel in the Highland Brides, which is a take on Robin Hood in Georgian-era Scotland. A scandalous lady with a secret habit of pickpocketing from the rich, and a staid Member of Parliament who's determined to keep his name free of besmirching…until they're thrown together, and a partnership forms. A partnership with some distinctly rebellious lessons in kissing 😉
Get your copy here:
Amz: http://hyperurl.co/matmamz
Kobo: http://hyperurl.co/matmkobo
ARE: http://hyperurl.co/matmare
Print copies are coming soon.
To celebrate my dual release, I'm having a Facebook party! It's a free event from 7-10 PM EST, and you can join here. I'm sharing the spotlight with the very lovely Manda Collins. We have lots of fun guest hosts, including: Patience Griffiths, Christi Caldwell, Deb Marlowe, Ashlyn Macnamara, Madeline Martin, Kris Kennedy, Jennifer Haymore, and Vanessa Kelly. There will be plenty of opportunities for you to win free books!