What's better than one Christmas anthology? Two! I'm delighted to share with you two new holiday novellas.
First, Dashing All the Way came out last week! I so enjoyed working on this Christmas anthology with Celeste Bradley, Eva Devon, and Heather Snow. This is the first time I have written a widow, and I really fell in love with Caledonia's story.
Best-selling and critically acclaimed historical romance authors Celeste Bradley, Eva Devon, Elizabeth Essex and Heather Snow heat up this Christmas with four never-before-released novellas guaranteed to make your holiday season merry and bright.
"Up on the Rooftops" by Elizabeth Essex
Mischievous widow Caledonia Bowmont longs for London's Christmas cheer, but a string of jewel thefts has brought the festive season to a standstill—and Society accuses the Scottish Wraith, Tobias McTavish. Toby is determined to clear his name and reclaim the life he's built, so with Cally's help, he heads up on the rooftops to trap the thief. Will they stop the high-carat crime, or find the hidden gem of lasting love instead?
"A Rake for Christmas" by Eva Devon
Lady Evangeline Pennyworth is done with being a wallflower and turns to London's most notorious rake, demanding he teach her how to be desirable. After witnessing the love of his parents devolve into pain and anger, Anthony Basingstoke has vowed never to be swept away by passion, even if he finds himself taken by this wallflower in a way he's never been before. Only a Christmas miracle will make true love a gift that will last forever.
"The Very Debonair Lady Claire" by Heather Snow
When Claire Barton's twin is murdered, she takes his place in the War Department to flush out his killer. Her ruse works perfectly—until the man who once broke her heart becomes her new spymaster. The worst mistake of Andrew Sedgewick's life was walking away from Claire that Christmas six years ago. Now that he's found her again, he doesn't intend to let her go—if they both survive this holiday season.
"A Liar Under the Mistletoe" by Celeste Bradley
Fearless Amie Jackham doesn't attend balls to dance, she's there for the thrill of robbing the lockboxes of the unscrupulous. With the notorious Vixen still at large, Liar's Club spy Lord Elliot Hughes is taking the opportunity to clean out a few lockboxes for the good of Crown and Country—and leaving the Vixen's trademark lacy handkerchief behind. Thief and spy can't resist each other in this sexy, catch-me-if-you-can Liar's Club holiday novella.
Purchase DASHING ALL THE WAY
Amazon | Nook | iBooks | Kobo | Print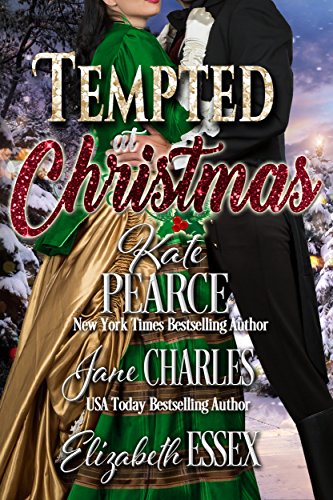 Second, TEMPTED AT CHRISTMAS, which features my story A Merry Devil, about Captain Matthew Kent and Tressa Teague. You may recognize these characters from Between the Devil and the Deep Blue Sea, my prequel to the Kent Brothers Chronicles. TEMPTED AT CHRISTMAS also features novellas from Kate Pearce and Jane Charles. I think you will thoroughly enjoy this charming Christmas anthology, set amidst the wild Cornwall coast. 
Elizabeth Essex's A Merry Devil
Captain Matthew Kent has always been bound by his service to the Royal Navy. But when the Admiralty rewards him handsomely for cleaning out a nest of Cornwall smugglers, he is tempted to throw it all away for a second chance with Tressa Teague, the very woman he should not admire—a smuggler. Tressa is the daughter of the vicar, expected to be everything sweetness and light. But instead she has the heart of a pirate. She thought she'd seen the last of the dangerous sea captain who left her heartbroken before. But when he returns to the rugged coast of Cornwall to offer her the chance of a lifetime, will she lose her freedom, or only her heart?
Kate Pearce's And a Pigeon in a Pear Tree
When stuffy Benjamin Priske, Baron Saxelby, heir to the Earl of Widcome arrives at Castle Keyvnor, he not only falls in love at first sight, but is accidentally mistaken for his valet. As he spends time with Henrietta, the witty, beautiful, and self-assured granddaughter of the castle housekeeper, he's increasingly reluctant to reveal his true identity and spoil the most remarkable days of his life. Can Benjamin overcome his rigid nature, embrace the magical nature of Keyvnor castle, and maybe indulge in a fairytale romance all of his own?
Jane Charles's His Mistletoe Miss
Anthony Beck, Viscount Redgrave, has always done what was expected of his title and station. Ever the dutiful son, he abides by his mother's requests even when they tend to the ridiculous. There is no other reason, after all, that he would visit a gypsy camp to acquire a piece of magical mistletoe that should direct him to the path of true love. Luckily at the gypsy camp, he happens upon the one lady he's always wanted to court. Unfortunately, she's in love with her guardian… Miss Holly Prescott is not in love with her guardian. It is her duty, however, to make certain that nefarious young ladies with hopes of becoming his duchess, don't trap him into a loveless marriage. While attending the Christmas Eve weddings at Castle Keyvnor, Holly learns that the nearby gypsies could be of help in that regard. However, she did not expect to stumble upon the handsome and oh-so-honorable Lord Redgrave in the process. 
Purchase TEMPTED AT CHRISTMAS
Amazon | Nook | iBooks | Kobo | Google Play